April 8th, 2007 by Mike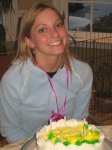 Tomorrow is our younger daughter's 24th birthday. She now lives out of state, and so we were celebrating it here this weekend. Not being a shopper, I was trying to think of some way to make this birthday special for her. So, after she left, I pulled out the old photo albums and lost myself for awhile in the memories that resurfaced from years past. I realized how our goldens have intertwined themselves into all our outings, adventures, and big occasions over those same years. They always managed to bring a special element to everyone and everything whenever a crowd gathered. Kristen, being our youngest child, was around the most when we started breeding as a serious hobby. Our older children were already away at schools. So we have lots of photos of her helping with the pups.
I have picked out some of those special moments with our different litters. If you will bear with the sentimentality of a father looking back on those long gone years, I think you will see how special our goldens have been to all of us here. Along with the work that Kristen put in to help.
I hope Kristen will be pleasantly surprised (and not mortified) to read this blog episode tomorrow morning.
Mom and dad wish her a birthday filled with "golden" moments, and happy reminiscences of the memories these photos have brought to us.
And to our readers, we hope that sharing our photo moments with you will trigger thoughts of your own adventures with your goldens. Whether already cherished memories or dreams of adventures to come, they all start with the love of this amazing breed.
---