February 27th, 2007 by Mike
Introducing Lucy to our big dog family, is like seasoning a stew with spices, best done in small doses and with careful oversight. Barb and I have been very vigilant as the pecking order here in dogville must change and adjust. As I mentioned in the prior blog, Solo has never had close contact with a puppy before. She never wanted to visit the pups in the whelping box, while our Riley was always down there sniffing the puppies. Emma is still very protective and hovers over Lucy when she is out of her pen in the family room. Lucy not knowing better, sniffs everyone and everywhere and tries to nurse anyone with a nipple. That combination has led to more than a few growls and heated barks.
From the photos, you can see some of the tension in the animals. However for the most part, adding a puppy here has raised the energy level here in our home in a positive way, as the playing becomes more routine. In some of these photos you will see Miss Purple and Lucy. Miss Purple was with us until Sunday, and we didn't want to leave her out of our family life here.
The dynamics of a large dog family are much different that having just two or even three. Everyday is a learning adventure for us all here. The adventures and friendships do multiply alongside the dog hair, cleanup, and expenses.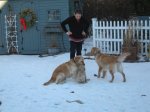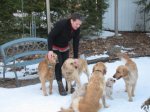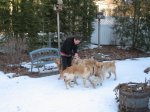 We will be taking a little break from the blog for a short time. I must catch up with other life matters that I have been putting off for too long. Will keep everyone informed about the clearances of Riley and Solo in March.
Barb and I have really enjoyed the photos our new owners have sent of their pup settling into their family. Keep them coming. I hope to add a website page in the future for everyone's photos. As for our future puppy owners, please don't stop dreaming about your own golden adventures forthcoming later this year. Those dreams are only a litter away.
---