February 20th, 2007 by Mike

We had a prison break this morning! Early this AM, I cleaned the box and left them in there without the patio fence attached, because they had pulled up another big chunk of linoleum overnight that needed patching. Barb is off this week from school, so she was trying to sleep late. I got call on my cell from Barb a short time later, annoyed that all the pups had climbed over the doorway and were wandering all over the cellar. No harm done! Just them and me in the doghouse for the rest of the morning!
Only three more days before our puppies leave, and there seems to be an air of anticipation in the whelping box. When working or cleaning in the area now, each puppy tries to get your eye, and pays more and more attention to what you are doing rather than just playing. We hold each one several times a day, and they really enjoy those moments of one on one cuddling. Of course Barb and I are the ones getting the most out of these last moments. We may never see most of our pups again in person, and at best have to be satisfied with a photo. So we are savoring each of these last days. Today's photos show that watching and waiting attitude that each of the pups has adopted.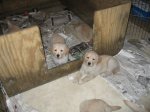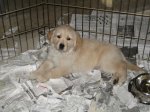 ---