February 15th, 2007 by Mike
Our big dog family is very comfortable now with the parade of people in and out of here on almost a daily basis.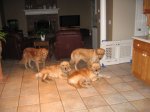 Lily and Solo have met one of two of the female pups that we have carried upstairs, but we haven't put anyone on the kitchen floor yet. That will be where the testing is carried out this weekend, and the pups are not supposed to be familiar with the setting. Part of the test involves stressing them a little to see how they react. Riley is the only one who has ventured down into the whelping area to see what all the noise is down there. Emma doesn't seem to mind anymore, but when we are upstairs with a pup, she doesn't take her eyes off it. Their lives will soon change with the addition of another junior member.
Downstairs the puppies are definitely wanting more attention. They are probably getting bored with the same scenery and want some distractions. I sat in the box tonight and served as a chewing board for some very sharp teeth. This morning I was surprised to find that three or four of them had torn up the linoleum in the patio area and were busy trying to destroy more.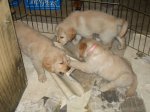 So when people ask, how can you give them up, they are so cute?, it gets to be very easy when you consider their needs and how much energy and love they are waiting to share with their new families. It's almost time.
So as we all start this final chapter of Emma's Magnificent Litter, everyone is anticipating the weekend for a slightly different reason. Our soon to be puppy owners are awaiting the word of the testing process so they will finally know who they will be bringing home. The judges (our veteran breeding friends) are interested in seeing how the breeding selection turned out, Barb and I are hopefully seeking high marks for our efforts, and of course the puppies are just wanting someone to love and make happy.
The waiting is almost over.
---