January 28th, 2007 by Mike
Well into week four now of puppydom, we had to change our procedures a little. The pups no longer fit and were no longer content in the little white box while we cleaned the whelping pen. So we attached the little fence and made the indoor outside patio for all to explore instead. There were a few more squeaks than usual while all got accustomed to being outside their nest. But as time goes on they will get to love the extra space.
Emma has adapted to a new way of nursing… Standing. The pups had grown so much that not everyone could fit at the same time when she was lying down to nurse. So she has taken to standing and letting the pups belly up to her nipples. The pups' teeth have come in so she is generally spending less time in the box and the pupps get more and more of their nourishment from the puppy food.
We had more family and friends come to call on the weekend. And of course we had to take their pictures.
The inside ledges in the whelping box were designed to give the pups a quiet place to go to when they had enough of cuddling. Lately some have taken to climbing, while the rest line up head to toe like a row of buses at the station.
I had the weekend off from call so I got plenty of puppy fixes like the photo below.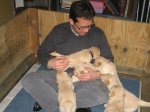 Our daughter Kristen came home from Boston for her puppy fix also. It turns out that she likes to nap with her dog as well… A pug puppy that likes to cuddle her neck while she sleeps. Quite a face to wake up to, but no offense Kris!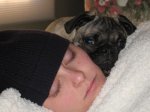 Finally, most of the males are now over five pounds with their sisters trailing behind by a little. Everyday here is a new adventure so stay tuned…
---