January 22nd, 2007 by Mike
With the pups getting larger, it is harder and harder for everyone to find space for a drink at the same time from Emma. There are several cute scenarios that occur because of this lack of space situation. A pup that doesn't fit will start to push from either Emma's front or back end dislodging the puppy nearest from a nipple. Then that puppy will move to the next pup in line until he/she gains control of that nipple. This forces the dislodged pup to move down one spot and so on. This continues until the pup at the farthest end loses its position and has no one else to dislodge in the same direction. So after a few moments of indecision that last puppy will then start the dislodgement process in the other direction. So the best spot in line is in the middle since you never end up without a nipple when the musical chairs stop.
The other observation is that the the puppies all push forward like football offensive lineman to get and hold a nipple. They also climb over each other and seem to be able to nurse upside down or even sideways. Emma takes all the jostling in stride even when she ends up with a leg/paw in her face. (Look closely at her in the last photo).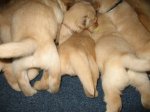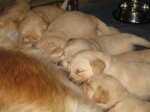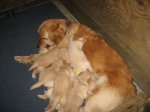 ---