January 14th, 2007 by Mike
Although it was wet, dreary, and chilly outside, the atmosphere was warm and bright in the whelping box. The heater in the corner certainly helped, but mostly the warmth was generated by the spontaneous smiles and good vibes generated by the interaction of people and puppies. All good. More visitors, family, and friends shared the warm puppy atmosphere today. Everyone left smiling and happy.
Emma was a very good sport all weekend. I think she felt safe with all our visitors. These dogs have an uncanny way of judging the inner good of people, and everyone passed with flying colors.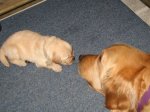 ---