January 13th, 2007 by Mike
The energy level in the whelping box has picked up considerably in the past two days. The pups are lurching around on all fours and starting to interact with each other more than just finding a sleepmate to cuddle. But cuddling is still their favorite activity right behind eating. They don't seem to mind if they are on the bottom of the pile or on the top as long as they can snuggle.
Barbara changed the collars to the velcro ones now that the puppies necks are large enough to fill them. Here are our three little girls: Miss Yellow, Pink, and Purple.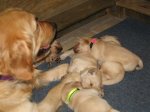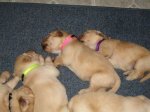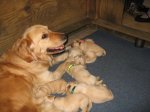 Their eyes are open but they don't yet react to most visual clues. Their hearing won't be developed for another week, so they get around mostly now with their sense of smell.
The most exciting part of today was meeting some new clients/families who came to look the litter over. The excitement in the children's eyes was priceless. So were the science questions from the young boy who wondered how the nipples worked. Like a straw in a glass of milk I think I told him. Hah! Our good friend and co-breeder, Donna Talbot also dropped by with her son Trystan. Each of us has a dog from the other's litter.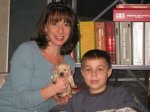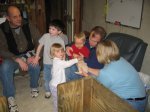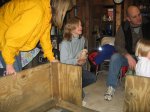 For those readers who came to visit and don't see your picture here, not to worry. We will get everyone in cyberspace before this adventure finishes. More visitors and adventures tomorrow.
---