January 7th, 2007 by Mike
What an amazing weather weekend we just had. Ridiculously warm but immensely enjoyable none the less.
In our house, every morning about an hour after the big dogs have eaten, they gather together in the kitchen and look at me with anticipation.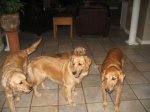 They live in the moment, and are waiting to see if I say "walk" or "work". If the answer is "walk", the energy in the kitchen goes into warp drive and they can barely contain themselves until I can get them outside. We head for our usual route at the high school fields just after sunup.
Today, instead of plowing through January drifts of snow blown by the steady winds across the playing fields, they managed to find three or four large puddles left by the overnight rains. Never letting a chance to swim go past, they quickly soaked in the mud one after another.
The good news is that if you stay outside long enough, the golden's thick water repellant coat will dry itself, and the mud and dirt just drop off. Thank god or Barbara wouldn't let us back in the house most days. So the dogs ran around some more and finished their exercise run content and worn out.
A little towel drying in the garage at home and they are respectably clean again. Emma did great today, though not running as fast as the others, but able to clear her head after the nonstop demands of nursing. I am able to let them run free most mornings, because at this time of day we have the grounds to ourselves. Today, dogs seen: 0, wildlife encountered 0, People seen 1, (jogger).
Still, where is the snow? Goldens are four season dogs, and love the snow almost as much as water.
---