December 1st, 2006 by Mike
My family and neighborhood friends were well acquainted with our Abby. She was our first breeding female and a special friend to me. Because her three litters were our initial efforts at breeding, we had adventure after adventure that Barb and I still laugh about even now. When taking rides anywhere, she always pulled rank and rode shotgun in the front seat, never allowing any other dog to sit next to me. When we lost her to cancer, I felt I wanted to mark her passing by doing something special. The creation of this web site has allowed me to do just that.
Here are some of my favorite photos showing her calm nature and strong maternal instincts. She was also never too far away from a tennis ball and could play catch and fetch until she wore you out.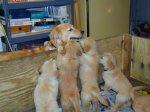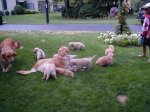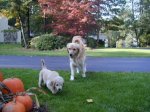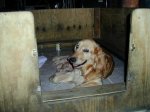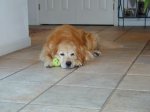 Celeste and Dana Rockel (my website gods) and I have put something together to add to Abby's tribute.
Called Abby's message, I hope to convey the essence of what loving and sharing your life with a golden retriever or any dog for that matter can mean.
When we travel to Vermont another of her pups rides shotgun with me now, while other of her pups climb the same hills and roads we once traveled. It is not quite the same as having her by my side but her spirit lives on in them and in me. Click this link to see: Abby's Message
---