November 2nd, 2006 by Mike
Barb and I receive many photos and emails from friends and family on all kinds of animal life. Two of my recent favorites are below.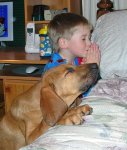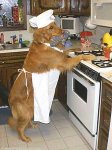 I tried to teach Solo our youngest golden to be more handy around the kitchen. She refused to wear the apron and the closest pose I could get was when she spied the cat's food dish on our kitchen island. I then tried to send her outside to fetch a pumkin for baking a pie. She started out ok until she found out that the pumpkin stalk was tasty.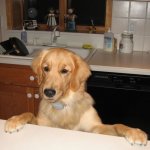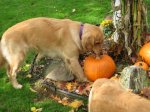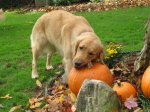 Every morning since "the breeding", I ask Emma the same question. Any puppies inside? She thumps her tail twice and gives me the same answer…why are you worrying about tomorrow when there are so many adventures to be had today!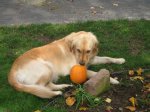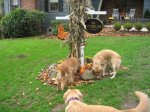 I leave on Saturday for a medical mission outside the country. This will be the last post until I return. Have a nice day.
Mike.
---