October 18th, 2006 by Mike
Emma is our beautiful four year old female. She has a very quiet and calm personality that matches her mother Abby. Surprisingly she is also the most alpha of our females but only demonstrates this when around our other goldens who are younger and more mischievous. She just started her heat this week.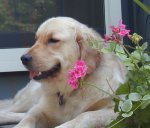 Despite her Hollywood looks she hasn't had much success in the breeding department so far. Our first efforts with her a year and a half ago resulted in a single female puppy. Solo is her daughter's name and she lives with us. Solo happens to be in heat now also, but she has to have her conformation testing before she can become a mom. Solo's father, Magic, died of cancer soon after Solo's birth. He was owned by Barbara Biewer and Claudette Beaulieu, two very experienced and well known breeders in the New England area.
This past year we bred Emma to a magnificent male named Mulder owned by Berna Welch. His pedigree includes being the best of show winner of Westminster in 2004. Unfortunately, she did not conceive that time.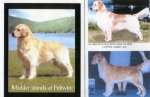 She has since had a negative infertility workup with a highly respected fertility vet, Dr. Anne Huntington, from the Suffield Veterinary Hospital. So with no significant litter results thus far, we decided to do artificial insemination with fresh and possibly frozen sperm from Mulder. He has sired a remarkable number of champions all over the country so the issue lies with our Emma. She has her first doctor's appointment this weekend and the upcoming schedule will be planned. The one significant issue for us is the distance Mulder lives away from us. Berna is a four hour drive each way out on the Cape. She has been extremely gracious and generous to let us have her champion golden for the two days upcoming while the insemination takes place.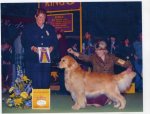 The results of our labors we hope will be successful, with the outcomes being top of the line puppies having great looks, personality, and heritage. Say a prayer for Emma and stay posted on her upcoming adventure.
---