October 12th, 2006 by Mike
Maybe the only thing better than having a golden retriever in your life is sharing life with two of them! Similar to people, dogs are calmer and better behaved when life is shared with one of their kind rather than just experienced by oneself. We have all heard if not seen the situation where a younger dog revitalizes an older dog's life when added to a home. The lovely photos that Ron and Barb sent of their Emma and Sandy are great examples of golden's bonding. (See the prior post under Client Stories/ Photos).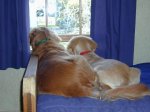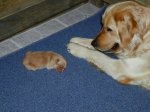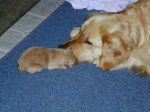 I thought I would share with our readers some of the more close to home moments when having a friend makes all the difference in the day. Of course I realize that not many people have the space, time, money, and tolerance for dog hair that another golden brings to your life as well. But as an observer in a house overrun with goldens, these moments make you pause, think, and smile.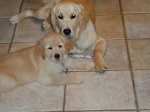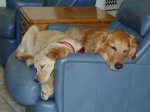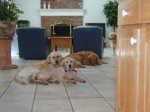 ---