September 25th, 2006 by Mike
The dogs and I had a splendid escape from suburbia this past weekend by spending some time in the mountainsides of Vermont. The fall foliage has not yet peaked. Most of the colors were dappled yellows, greens, and browns that caused the dogs coats to blend in well with their surroundings.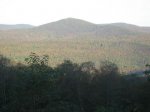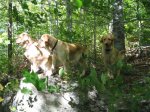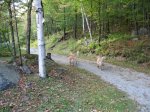 The hunting instincts of the breed came to the foreground as they all enjoyed running down the rabbit and field mice burrows in the meadows. Fortunately the much larger wildlife was absent. Last fall my son saw a black bear and its cub meandering down our driveway. That is a little too large an animal on our property to my liking. Of course, they were here first!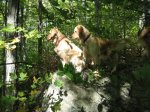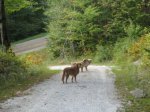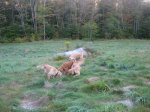 For those who not familiar with our dog family, here is the background on our present family. Lily is our eight year old and one of Abby's first pups. She is laid back and plays aunt to the younger goldens. Emma is our four and a half year old and is due to be bred with her upcoming heat this October. Riley is a year and three quarters young and is an offspring of Emma's sister Ella. Ella resides in Hebron, CT. Solo is one and a half years old and the only offspring of Emma to date.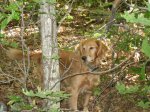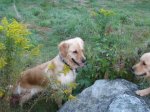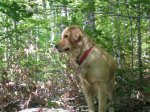 Both Riley and Solo will be getting their clearances for breeding when they turn two years old. It is striking to see the effects of the genetics on the shape and size of our females from the oldest to the youngest. It is clearly obvious how important choosing the proper male is when you are breeding not only for temperament, but for coat, color, and configuration. All four of our present females have had different fathers.
– Mike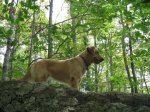 ---