February 10th, 2013 by Mike
Hi Everyone. It's been awhile since I had a few moments to put together a post. Every day is an adventure here when you have this many dogs running free, and some of the happenings would cause your hair to turn grey, but all n all, a busy energetic and mostly tail wagging household. This was a memorable storm. Most of it seemed to happen when we slept, so we all awoke to white surroundings, and drifts of snow up to mid thigh. It is something when you have so much snow all at once that a plow truck  gets temporarily stuck in your front yard.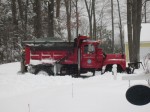 As soon as it was light, everyone wanted outside. So we started in the background where they had made themselves a path..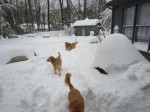 Then it was off to the high-school  where I expected things to be plowed and shoveled. Wrong! This turned out to be a very strenuous outing with mid thigh snow. The dogs stayed mostly on top, but I certainly found the going more difficult than my recent stress-test.
When we finally made it to the tree between the fields we all needed a moment to catch our breaths.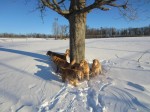 Then back on the same narrow trail we had carved out, to get home. Of course, that tuckered everyone out, so they all gathered for a nap..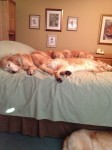 And I know everyone, wants to hear our updated story of Lexi, our returned three year old puppy, whose mother is here (Riley), and whose father Mulder was a Westminster champion. We had decided to allow her to go to the home of one of our friends and neighbors whose yellow lab has a terminal cancer. But after taking her down for a walk, our neighbor found that she was just too much dog for her. So while we entertained a host of other offers, I took her running with the pack. It was amazing to see her spirit light up from the reserved dog she was when she first joined us.
She seemed like she was home, and Barb and I just couldn't find it in our hearts to say goodbye to her.. So she now is among her family and doing just great.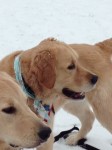 And guess who turned One yesterday. Our rascal of a puppy, Gabby. She just finished her first heat, and we are going to have her eyes and heart checked at the upcoming Southern Berkshire Golden Retriever Clinic in March. Let us pray that she passes all her clearances. And she has to be two before we can have her hips and elbows certified for breeding. But what a great looking mom to be!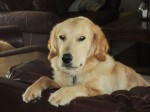 ---