April 5th, 2009 by Mike
Riley's temperature has been dropping, and so Barb and I are alternating nights in the basement with Riley. She will have several hours of restlessness, punctuated by periods of calm, and then will be back to her happy self. There have been no contractions. And she certainly has not lost her appetite for food! This is also my weekend on call for my practice, so I have to intermingle puppy watch with 24 hour in house calls Friday and today. My son Brian has returned from NY, and our good neighbor Theresa is available as always to help Barb out if the labor starts with me at the hospital today. That is our plan.
Rocky came down with me to set up the cot where one of us will be stationed until the puppies arrive, and then to continue until they are large enough that we can be sure there will be no accidents with Riley being a new mother.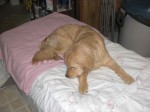 This is where I will find myself at night, for about three weeks, but it is all good. We must safeguard and protect the new life we are soon hoping for, that we have so long tried to foster. Barb will get to sleep in our bed upstairs, as she must be rested for puppy and big dog duty during the days. As you can see, this breeding work has to be a labor of love for all involved as it takes over your life for the eight weeks that the puppies are here.
And here is our star of the moment, Riley before our last night's sleep adventure.
I will send the next post when we have news..